Golden Oak Cottage
is a stylish luxuriously equipped building with a capacity of 18 beds and 6 cots in 6 separate bedrooms
Equipment for kidplayroom, high chair, baby bath, safety gates on stairs, fenced playground, sandpit, swings, slide, children's garden house, trampoline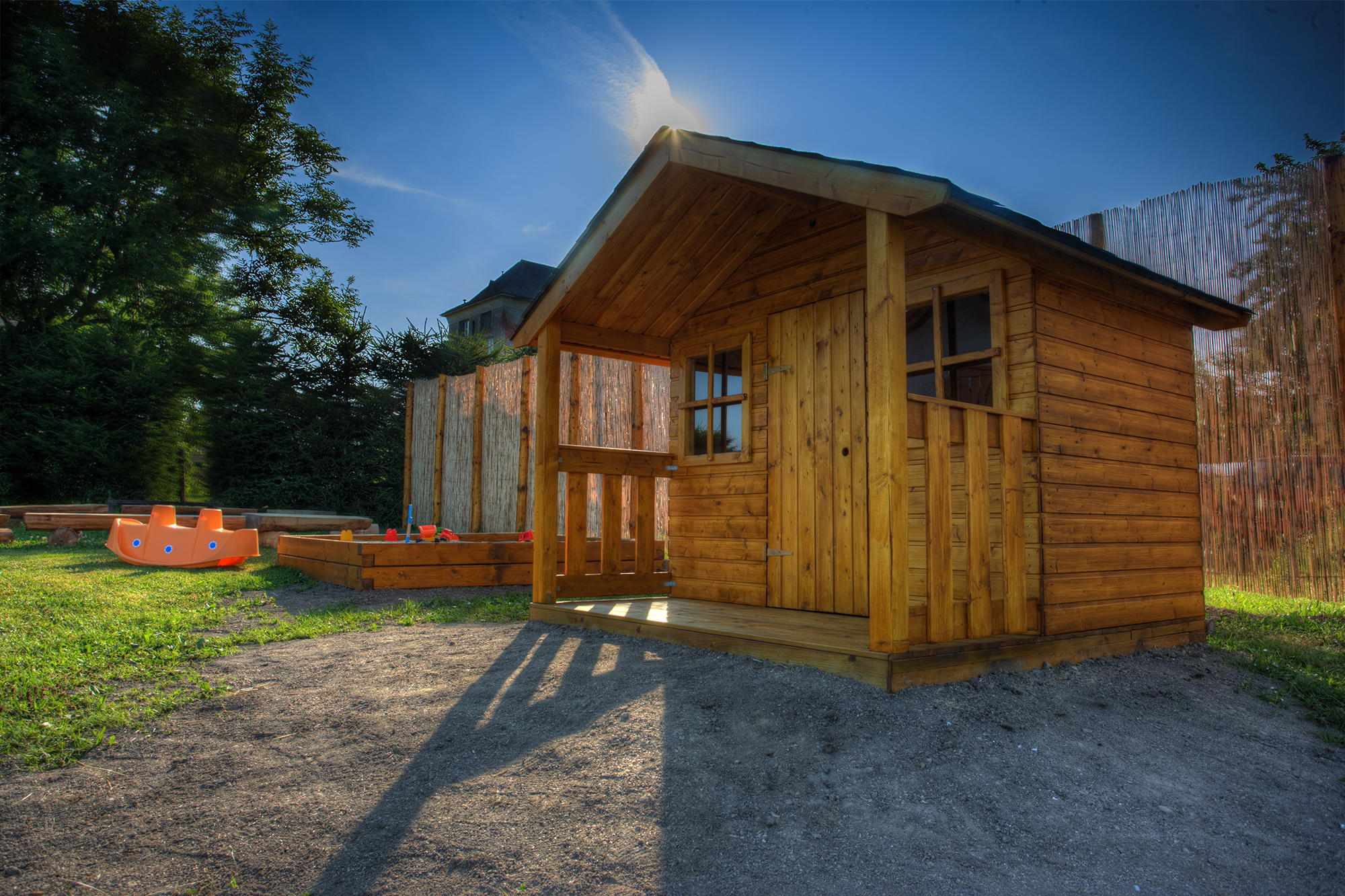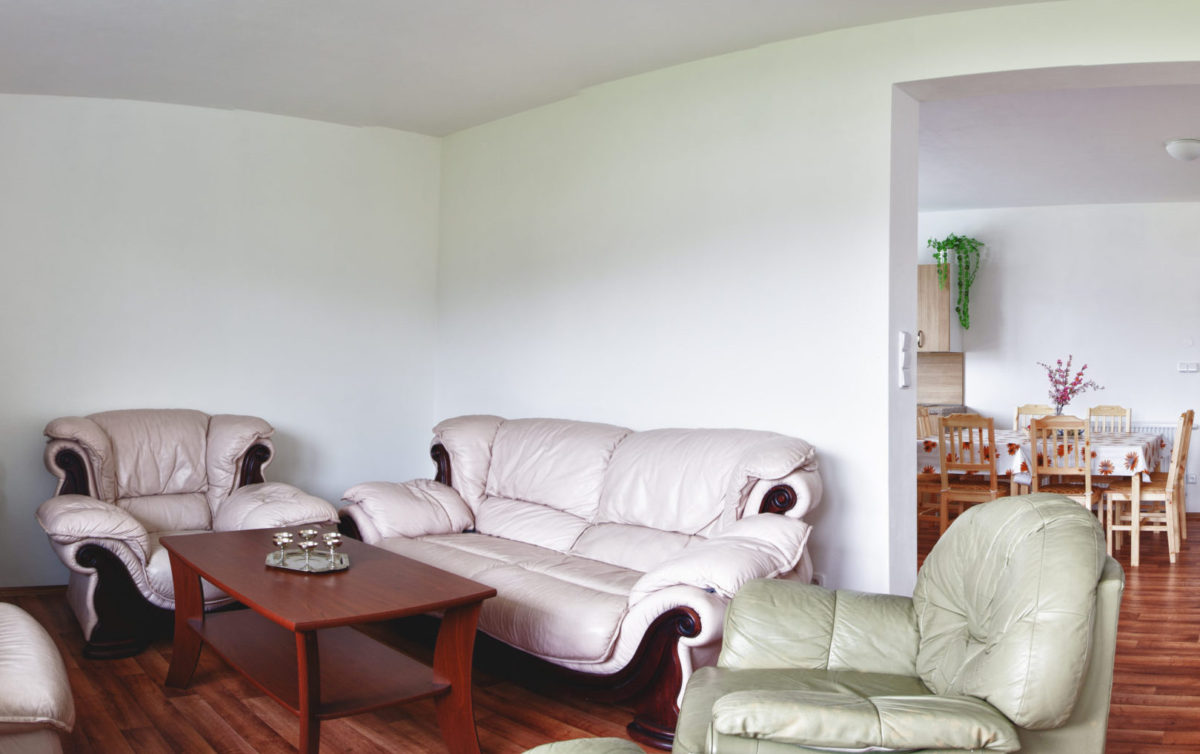 Two living rooms and two kitchens LCD TV, Xbox, Wi-Fi, sofa, ceramic hob, oven, dishwasher, microwave, toaster
Two bathrooms with shower corners, hairdryer, washing machine, 4 toilets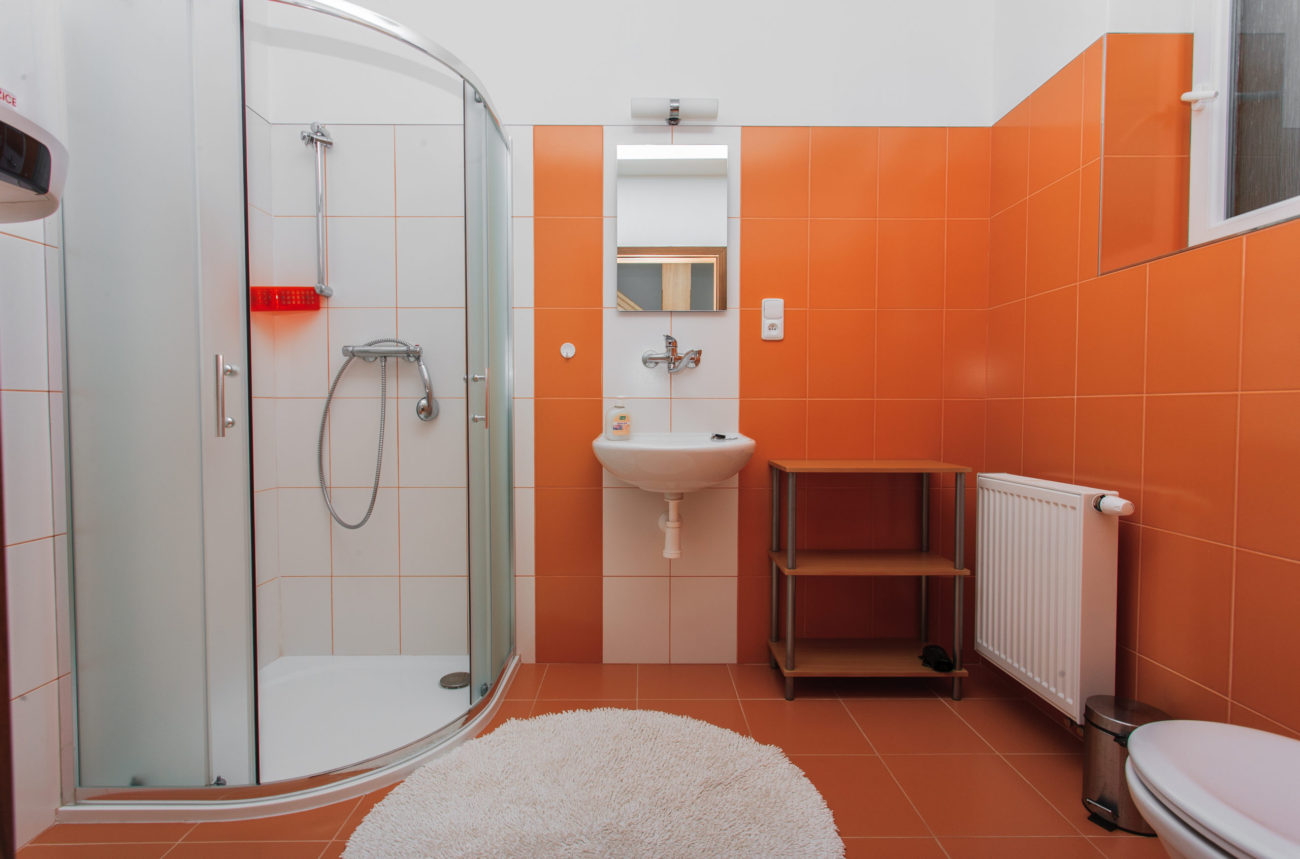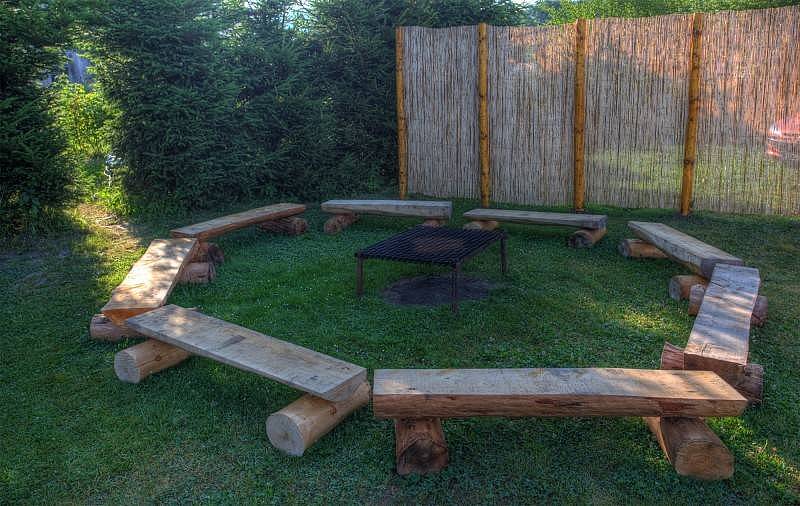 Ornamental garden with a large partially covered terrace
parasols, garden furniture, heated swimming pool, grill, seating around a fireplace, table tennis
On-site parkingis available for 6 - 8 cars as well as a garage to store your sports equipment, buggies etc.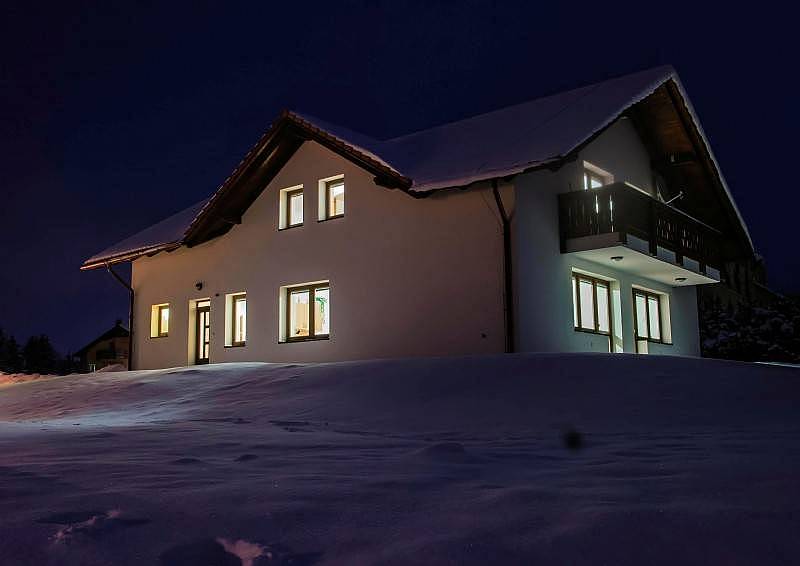 Property Description
Golden Oak Cottage has 6 bedrooms with a capacity of 18 beds and 6 cots and was designed and equipped to meet all the requirements for a comfortable stay.
This property contains two identical apartments, each with private entrance, garden, terrace and balcony. You can walk through in between the apartments on the inside hallway of the cottage using newly fitted sliding, lockable door.
Smaller groups of up to 9 people can rent one of the apartments. Larger groups of up to 18 people can rent both apartments – the cottage as a whole.
The building is strictly non-smoking indoors. Smoking is allowed on the terrace and in the garden. Staying with pets is not allowed under any circumstances.
Apartments
Each apartment, measuring 116 m2, has an entrance hall on the ground floor, utility room, bathroom with a shower and toilet, kitchen with dining area and a living room with an access to the terrace. In the hallway there is a children's corner (play mats, toys). A staircase, which is equipped with child safety gates in the upper and lower end, leads to the attic, where there are 3 triple bedrooms with the entrance to the balcony and toilet.
Bedroom
Each room is equipped with a double bed, an extra single bed, a cot, a wardrobe and a chest of drawers. All bedrooms are impassable. All of our high-quality mattresses are equipped with hygienic protectors. Each bed has a bedside table. Beds include linen. Each client has a free hand towel and bath towel available on arrival
Sanitary facilities
Each apartment on the ground floor offers a bathroom with shower, toilet and mirror over the sink.
The second toilet is located in the attic.
For families with small children, the cottage is equipped with a bathtub.
Towels, wipes and toilet paper are included in the price.
The cottage is equipped with an automatic washing machine, clothes dryers, steam iron, ironing board and hair dryer.
There are some sewing sets and a set for cleaning shoes available.
GIFT FOR YOU – the opportunity to try cosmetic line Bonsai – hair and body gel, body lotion.
Living room
Each apartment has a comfortable sofa in the living room, 32 ″ LCD satellite TV with a wide range of films, sports, documentary and children's programs, free internet (Wi-Fi), radio / CD / MP3 player, USB / SD player, Xbox 360 Kinect 20 GB offering a range of new and older games – action, racing, sports, simulators, games for children
Kitchen
Fully equipped for home cooking and dining, with oven, ceramic hob, extractor hood, dishwasher (incl. tablets), refrigerator with freezer, microwave, kettle, blender, toaster, large table and 9 chairs.
There is a choice of plates, bowls, cutlery, glasses and mugs of various shapes and sizes. The equipment also includes knives, bottle and can opener, pots, pans, baking pans, chopping board, peeler, ladles, wooden spoons, grater, colander, jugs and much more for cooking, baking and dining
Entry hall
Here you will certainly appreciate the shoe dryers and the large 5-level shoe box located in the entrance room.
Heating
There is electric central heating and each apartment has its own thermostat. The cottage has an excellent thermal insulation, so the energy consumption in winter is minimal.
Transport and parking
There is an on-site parking available for 6 – 8 cars, with easy access from maintained communication. There is no need to use snow chains in winter.
We are equipped with a snow blower, so in winter, your parking spaces will be prepared for you.
The nearest bus stop is 100 m, railway station 400 m away.
Local taxi service – available at all times.
Local Catering
There are several restaurants and hospitality choices in the village and its surroundings:
Nearest public house is 400 m.
Wine bar and wine shop 600 m.
Restaurant 'Na Čertovce' 2 km.
Restaurant 'U Čmeláků' 2 km.
The cottage is fully equipped for home cooking and dining. A grocery store and a local mini-market are only 500 meters away.
Garden
The whole property is bordered by green hedges. The children's playground part of our ornamental garden is fenced. The paving is all around the perimeter of the cottage and in the front it forms a large terrace.
In the summer, the garden offers facilities for an unforgettable stay, full of sport activities and relaxation. Our rustic wooden garden furniture on the terrace is available for 18 people, we have 2 umbrellas (3 m diameter), fireplace with grate and granite grill stone, toasting forks, stainless steel kettle for 18 people and dry and cut wood in reasonable quantities. There is a large trampoline (450 cm in diameter) with a protective net, above-ground pool which is 450 cm across (depth 107 cm) with sand filtration and solar water heating, table tennis, sandpit and toys, children's wooden garden playhouse with kitchenette and cushions for sitting on, as well as a slide, 2 swings for children, 1 "Bird's Nest" swing for adults with a load capacity of up to 100 kg. Also available is children's paddling pool that's 150 cm across (depth 30 cm), pedal car, soccer balls, basketball and rugby, badminton, tennis rackets, Frisbee and garden board games, such as Jenga XXL, Mikado and target throw. The garden is not suitable for lively parties.
The building is located at the end of the village, but is not secluded. There are houses nearby, and therefore it is necessary to be considerate of the surroundings, both at night and during the daytime.
The cottage and the garden are not in the vicinity of any rivers or streams and are located at a safe distance from the road.
Garage
There is a new brick garage (5 × 3 meters), right next to the cottage, that serves as a storage space for your sports equipment. The garage is also equipped with a spiral bicycle stand for your convenience
Price list
| | |
| --- | --- |
| Price per week for 1 apartment | CZK |
| Summer season: | 18 000 |
| June: | 16 000 |
| Price per weekend for 1 apartment | CZK |
| May, June, September, | 9000 |
| Off-peak season | 5 500 |
| Price per week for the entire property | CZK |
| Winter season: | 21 600 |
| Off-peak season: | 14 400 |
| Spring break: | 24 600 |
| Easter: | 15 000 (4 nights) |
| New Year`s Eve: | on request (min. 7 nights) |
| Christmas: | on request(min. 3 nights) |
| Price per weekend for the entire property | |
| Winter season: | 13 000 |
| Off-peak season: | 9 900 |
Cots including pillows, blankets and sheets are provided free of charge.
When making a reservation, we will ask for a 50% deposit.
Upon your arrival, we will ask you for the second half of payment for accommodation and a refundable deposit of 5 000 CZK.
The client pays for electricity and water rates according to actual consumption at the end of the stay & recreational fee to the municipality.
The electricity consumption charge is approximately 1 200 CZK per week outside the heating season when the building is fully occupied. During the heating season it is about 3 000 CZK.
The surcharge for water consumption is approximately 1 000 CZK per week at full capacity.
Recreation fee is 10 CZK per person/night. It does not apply to visually impaired, vulnerable persons and persons with severe disabilities who hold a ZTP / P card according to a special legal regulation and to their guides. It also does not apply to persons under 18 years of age and over 70 years of age or persons entitled to child benefit (education).